Professional Mobile Detailing & Protection Shop
Mobile Detailing - Paint Correction - Clear Bra/PPF - Window Tint - Ceramic Coating - Vinyl Wrap - Steam & Shampoo
Professional Auto Detailing in Long Island, New York
Is your car ready for a spa day? Long Islands #1 trusted detailing and protection center has you covered. WE DO IT ALL! Our company provides mobile detailing with an easy to use booking system and packages that are not only effective but, safe for your vehicle. Our shop location provides top notch paint protection services including paint protection film, ceramic coating, & window tinting.  Our team is certified with the latest and most effective products & material in the GAME! Every service is backed with a satisfaction guarantee and durability warranty.
Long Island Auto Detailing
Average Paint Condition After Washing
All surface contaminants sticking to the clear coat & some that broke through can be removed in the decontamination stage of exterior detailing.
Paint correction 1 step or multi steps can start getting into the scratches and defects. Anything beyond the clear coat is going to need body work.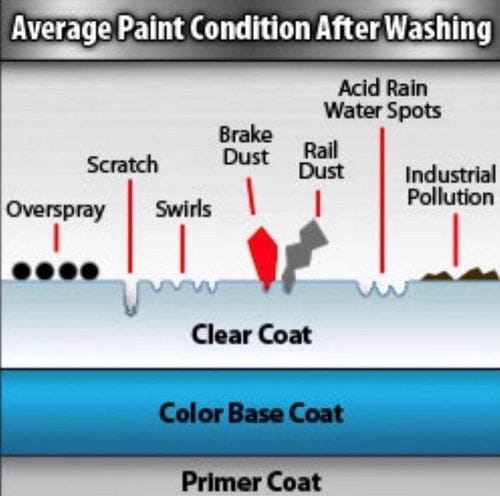 Kelly Mortilla
2023-07-26
I may be biased but my son came today and did my car for me, he was there a little before my scheduled appt even! He and his co-worker Jay did an amazing job on my car!!! I'd like to say he must get his attention to detail from his Mom 😜 TY limobilecarguy for your service!!!!
Jaspreet Singh
2023-07-26
Very professional.
Briguglio Quality Cuts Landscaping
2023-07-26
High quality work! Been using them for years to keep our work trucks clean. Joe and his team are the best.
danielle braithwaite
2023-07-21
awesome job! jhon was so kind and he made my car look brand new. definitely will use them again
Great service and very friendly
Christian Martino
2023-07-20
Li Car guys is one of the best mobile detailing, window tint and ceramic coating guys around! I've gotten two jobs done by Joe and the crew the last few weeks (window tints and ceramic coating) and I'm so happy with the results. Joe and the crew are very helpful and knowledgeable and do great work! I'll definitely be back for other jobs in the coming weeks!
Steve Sanginario
2023-07-02
They did such a great job. Will definitely have them detail my wife's car next
We Cover All of Suffolk County and Nassau County for Mobile Detailing Services
Open for Walk-Ins
Pick Up and Delivery (By Appointment)
Our car detailing service includes a customized plan to fit your budget and needs.
Rest assured, we'll complete the job on time and leave your vehicle looking impeccable.



LI Mobile Car Guy is a mobile detailing company in Long Island, New York. We take pride in consistently exceeding our customers' expectations. We are a certified, licensed business, and we are bonded and insured to give you peace of mind. We have a detail center in-house and we provide speciality work such as:
Vehicle Wraps - Window Tinting - Clear Bra - Dent Repair
We provide mobile detailing services and can bring all of the tools to your doorstep or work place with just the click of a button. Hit our "Book Now" tab above, pick a service package and browse our add-ons. We'll be in contact with you shortly after you schedule for a personal consultation and appointment scheduling.
Contact us now to get started!